At Tuva, we believe students learn by doing. With that in mind, we've assembled a unique content library of lessons that enable students to learn foundational mathematics, statistics, and science concepts by solving problems in authentic, real-world contexts.



How can I get started using Tuva?
Step 1: Pick an Activity

First, visit our Content Library to find a lesson to assign. Our content library is organized by content area, Math or Science, and further organized by grade level, course, and concept.

Step 2: Assign the Activity

Once you select an activity, hit the Assign button.You'll have the opportunity to leave directions for your students and set the point value for this assignment.

Step 3: Get Your Students Logged On

For students to see your lesson you can manually add them to your class using their email addresses so share your class code from your Dashboard.

Step 4: Grade Students Responses

From the teacher Dashboard you can view your students' responses to each activity, leave feedback, and assign activity points values.
What will Tuva look like for students?
| | | |
| --- | --- | --- |
| Students will explore data in Tuva by dragging and dropping attributes onto the axes, and easily changing the graph types with just a couple of clicks. Tuva's lessons contain guiding prompts to help students move quickly from observation to analysis and synthesis. | | |
What will Tuva look like for teachers?
As students complete activities, teachers are able to view student responses from their Dashboards.

Teachers can view responses by student or by question, in order to get a quick snapshot of students' understanding of the lesson.

From this view teachers can also leave feedback and assign points to each student.
How can I find a lesson?
The Tuva Content Library includes three different types of instructional materials for teachers: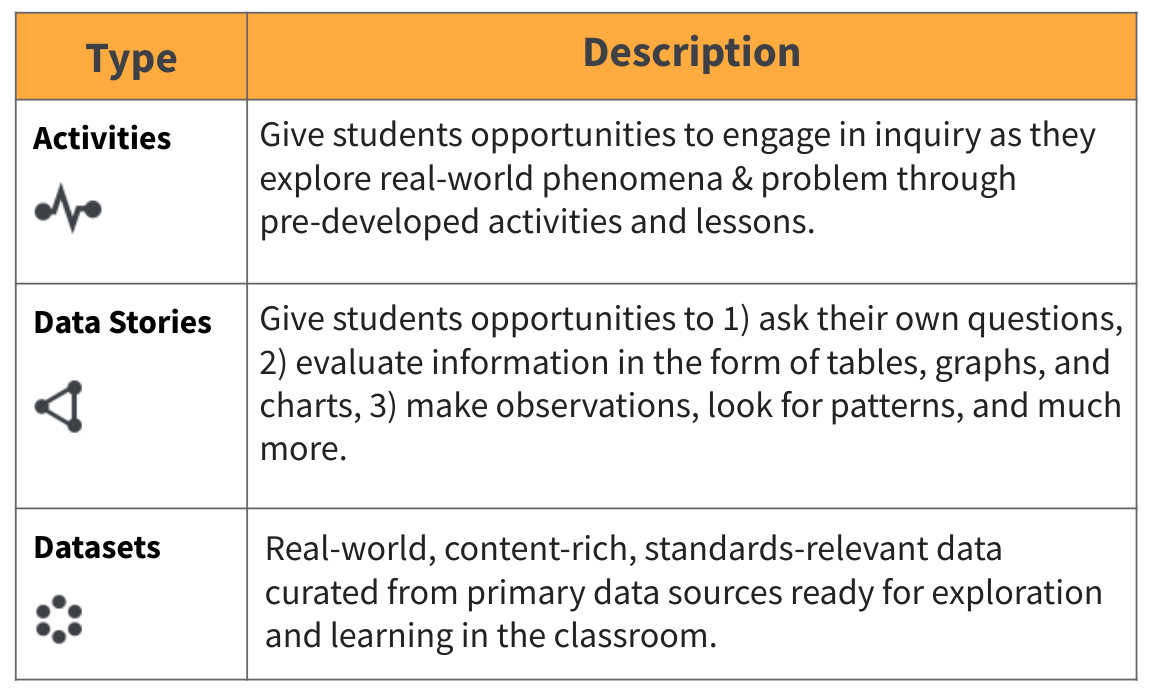 Tuva has a library for Math content and a library for Science content, with some instructional materials residing in both libraries. The content library can be filtered by grade-level and core concept for both Math and Science.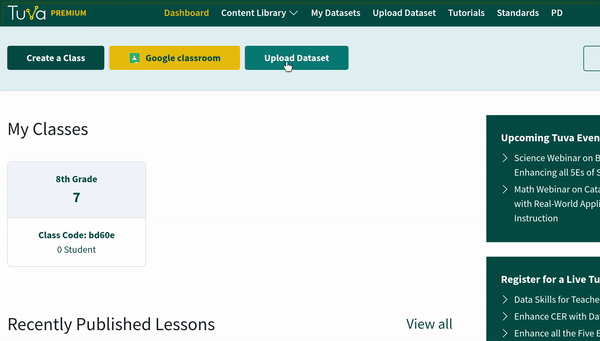 Introductory vs. Summative and Exploratory vs. Guided
Next Steps:
If you have any questions or feedback as you begin your journey with Tuva, please don't hesitate to reach out to us by emailing hello@tuvalabs.com.
Create a Class

Upload Data

Sync Google Classroom