Ask Questions data stories: Students examine a provided dataset either as a table or in the Tuva interface and come up with one or a few questions that could be investigated with the given data. They describe a possible way to graph the data to investigate answers, or they evaluate a list of questions to identify which could (or could not) be investigated with the given data.
Goal: Students frame (or evaluate) questions according to the attributes, categories, and data ranges that are available in the dataset.
Example: Tuva Data Story Be Specific With your Heat
Given a table of substances, phase of matter, and specific heat, students pose questions that the dataset could address.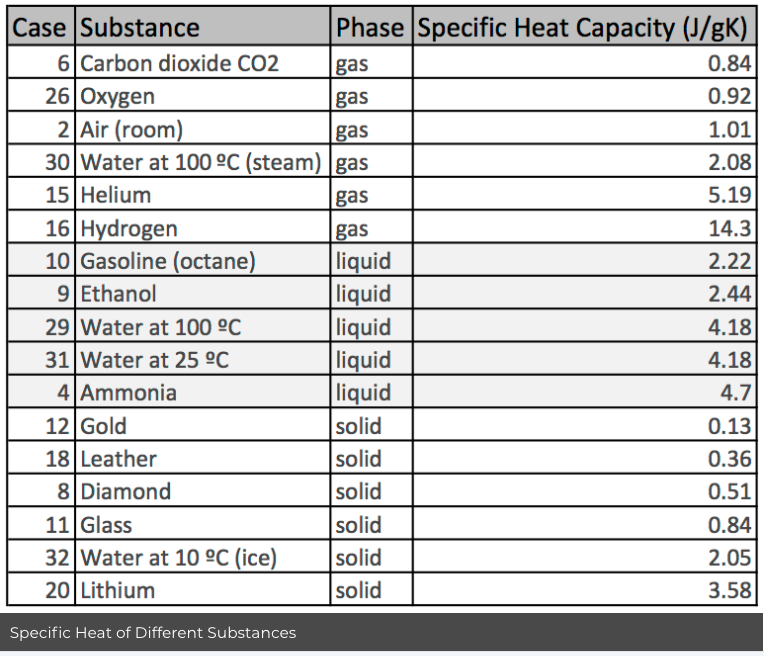 With the information provided in the introduction, what questions could you investigate using the data in this table?

How would you plot these data to investigate your question?
Implementation ideas: Ask Questions data stories can be used to introduce a new topic and stimulate curiosity. They can also be used (along with the supporting resources below) to scaffold students in framing clear questions that can be investigated with a given dataset.
Related resources:
Tuva reference handout: Language for Asking Questions
Student worksheet: What Kind of Question, What Kind of Graph?
Graph Choice Chart: Graph Choice Chart